June 1, 2012 at 10:44 am
#5629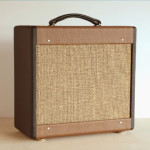 Robin
Participant
The finished chassis.
[attachment=46]RC8chassis2_2012-06-01.jpg[/attachment]
There was a question about how hot the head runs, it turns out this one is the coolest running 2Stroke I've built, because of the larger PT and the cross-flow ventilation.
Additional photos are posted in the 2Stroke head folder in my photos:
http://www.tubeampnetwork.com/tan-community/74-robin/photos/album?albumid=23
Use the "download" button above any of the photos there for a larger, clearer view.