January 25, 2013 at 1:54 pm
#5775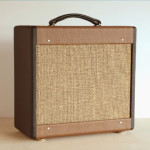 Robin
Participant
My 2Stroke combos (the red ones) are solid pine cabinets with Baltic birch baffles and luan back panels. They are very light. Also, Jensen ceramic speaker are light. You could build a combo with 1-12 (or even 1-10) and save weight on a smaller cabinet and one less speaker.
An aluminum chassis could save considerable weight too.
I'm actually working on a "mini" 2Stroke design right now.