January 26, 2011 at 3:21 am
#5293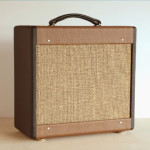 Robin
Participant
The 15 watt, 2 EL-84, Spitfire based amp was a fun build and sounds great, open and chimey like an AC-15, cranked is has a nice grind too.
It's very much different than a 2Stroke.
My 30 watt, Stang-ray (AC-30) style combo amp is back in the works after a pause to complete the Ceriaton OTS and build the cabinets (Dumble ODS clone). After that, I too am thinking of a TW design, maybe a Rocket w/ 2 6L6s, or maybe a Liverpool…I just thinking about it. I have a 5E3 chassis (steel) that will work for that design. I know the TW clone builders say an aluminum chassis is a must for a TW design, so…we'll see.