June 22, 2012 at 3:41 am
#5660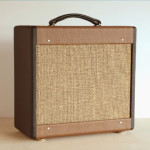 Robin
Participant
Wow, you built the original design, with 2 6V6s! Did you get DH's addendum and revisions? DH posted to the internet a couple of pages of updated info, corrections, revisions not too long after the book was originally published. Those are available here on the TAN site, go to the Wiki tab and you can get that info along with revised chassis layout and a real schematic. There is nothing wrong with the original 2 6V6 layout other than it has more parts. You can only use 6V6s if you want to use both sockets and one 6L6 = 2 6V6s (in terms of output watts, the tone is different).
Review the DH revisions and see if it helps resolve the problem.
Also, if you post your photos to a photo album under "my Photos" on your dashboard, the photos there can be downloaded and enlarged for better viewing. I'm still thinking it's a misconnected lead or something going to ground that should not be. Note that on the amp building forums, you will read over and over again about the value of double and triple checking the build. It's only after you have built a couple of these things that you appreciate the value of that advice. It's natural to be convinced that it's all built 100% correctly (after all, you built it and you know it all right)until you have that ah-ha moment and discover some simple flaw.